Celebrating 20 Years
In the spring of 2002, the doors to Anderson Inn opened, and its first residents moved in. Every nail and beam of the Anderson Inn and its surrounding cottages bear testament to the commitment and hard work of hundreds of community supporters and more than 300 builders, finishers, managers, contractors and architects. And in the two decades since, the community has become so much more than bricks and mortar. We have become a community firmly "Rooted in Caring."
How It Began
Quarry Hill began as an idea put forward by a small but determined band of local citizens who saw a need for a residential option in Camden that would be devoted exclusively to the well-being of older adults. Lucky for us they didn't just talk about it. They actually rolled up their sleeves and took on the work of bringing their ambitious vision to fruition. Work on the project began in earnest in 2000, after trustees of an affiliation of healthcare organizations called Northeast Health (later known as Pen Bay Healthcare and now as Coastal Healthcare Alliance), a member of MaineHealth gave the idea the official green light.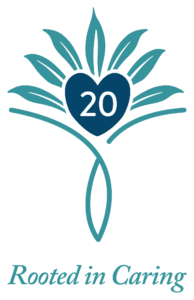 The Camden Healthcare Center, which had served as both hospital and nursing home for Camden and surrounding towns since 1960, was replaced with 45 cottage homes and a main building, the Anderson Inn—the latter named in honor of George Harding Anderson, a long-time trustee and supporter of the local healthcare system. Mr. Anderson's friends and supporters generously gave $2 million toward the construction of the Inn.
Why Mark Our 20th?
As the years go by, communities grow and evolve. Newcomers who weren't around in the beginning arrive, and in residents' collective memory it becomes easier and easier to forget the work it took to get the community started and to help it grow and stay true to its mission.
And look how far we've come! Today, we're home to some 200 seniors from all walks of life, providing healthcare services and residential options that are considered among the best in Maine. Time and again, when we ask people looking for a community to move to or to improve their loved ones' quality of life why Quarry Hill is their first choice, they say, "Because we heard you're the best there is."
As we head into this anniversary year, we look forward to looking back. We'll celebrate all that we've accomplished. We'll give thanks for the many friends and supporters, residents and care team members who've contributed to our success. But we'll also look ahead, particularly as nursing-care services transition to a new, state-of-the-art regional center and the possibility of offering new or enhanced options for older adults in the space vacated by the Gardens.
Will we get there on our own? No way. It takes a village, not just to launch but to sustain a "village" like ours. In a spirit of optimism and humility, we'll continue forging and nurturing relationships with other local organizations that care for seniors, the better to ensure that Quarry Hill remains forever "Rooted in Caring."