Long-Term Nursing Care: Compassionate 'Round-the-Clock Support
The Gardens is Quarry Hill's skilled and long-term nursing care center. It offers 24-hour licensed nursing care as well as rehabilitation services including physical therapy, occupational therapy, speech therapy (including swallowing), respiratory therapy and restorative therapies—all in a warm, comfortable setting.
Dedicated, Professional Care
At Quarry Hill, we promise to care for residents and their families as we would our own loved ones—with diligence, devotion and unflagging respect for each individual's inherent worth and dignity. Experienced nurses, certified nurse's aides and medication aides are selected for their skill and compassion. They work closely with Social Services, Activities and Dining Services teams to ensure comfort; security; meaningful activity and genuine, one-on-one caring for every resident, every day.
In addition, Quarry Hill offers residents the choice of seeing a primary care physician offsite, or transferring to our onsite Senior Services Physician Specialist, board-certified geriatrician Dr. Maureen Sauvage, dedicated exclusively to caring for our residents.
The Comforts of Home-and Then Some!
The Gardens offers both private and semi-private rooms. Each room features television with cable access, telephone, a handicapped-accessible bath and a thermostat to control heat and air conditioning. Delicious, healthful meals are prepared on site by Quarry Hill's professional chefs and Dining Services team and served in our cheerful, country-style dining room. An enclosed garden with seating and walking paths, sunroom, Wi-Fi, on-site hair salon, gift shop and planned individual and group activity program are available to all.
Flexible Payment Options
Quarry Hill offers families the flexibility of paying for long-term care through MaineCare (semi-private rooms only), long-term care insurance or private resources.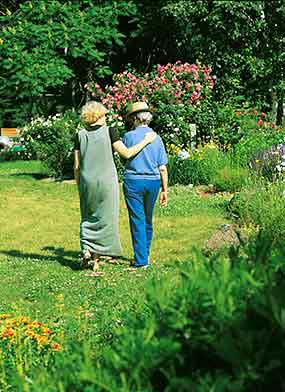 A New Vision for the Future of Nursing Care
A coalition of healthcare organizations, including Quarry Hill, is developing plans to build a new, state-of-the-art short- and long-term nursing care center for the people of the Penobscot Bay region.
Learn more about the new state-of-the-art nursing center.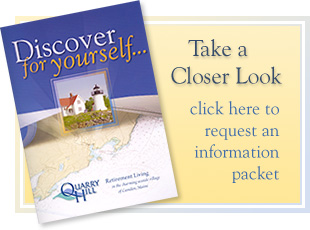 What People are Saying
"The nurses at Quarry Hill are the most compassionate healthcare professionals we have ever seen."
"Thank you for giving my mom a stellar quality of life."