Skilled (Short-Term) Nursing Care and Rehabilitation
The Gardens is Quarry Hill's center for short-term ("skilled") and long-term nursing care. It offers the services of an onsite physician, 24-hour licensed nursing care, as well as rehabilitation services including physical therapy, occupational therapy, speech therapy (including swallowing), respiratory therapy and restorative therapies—all in a warm, comfortable setting.
Get Better, Faster
After hospitalization, your physician may recommend a short-term stay at a skilled nursing facility (SNF) such as the Gardens at Quarry Hill. Skilled nursing care, sometimes called short-term nursing care, can help speed your recovery from surgery or illness, help you function more independently and show you how to take care of ongoing health needs once you return home.
In skilled care, our goal is to restore your health, vitality, strength and spirit so you can get back to the things you need and want to do as quickly as possible. During your stay, you'll be cared for around the clock by experienced nurses, certified nurse's aides and medication aides selected for their skill and compassion. This group of clinicians works closely with Quarry Hill's Rehabilitation, Social Services, Activities and Dining Services teams to carry out the plan of care established by your physician.
Additionally, while a patient of the Gardens, you and your physician will be given the option of having our onsite Senior Service Physician Specialist (SSPS), board-certified geriatrician Dr. Maureen Sauvage, oversee your care, or remaining under the care of your primary care physician.
Electing to be followed by our SSPS may mean more frequent visits with the doctor, ensure a swifter response to emergent medical concerns and reduce the need to revisit the hospital for medical attention. It also gives our nurses more time to do what they do best: caring for residents and providing the nursing perspective that's critical to sound medical decisions. When it's time for you to leave the Gardens and Dr. Sauvage's care, you can rely on us to inform your primary care doctor of your progress.
Comforts Galore
Gardens accommodations include both private and semi-private rooms. Each has television with cable access, telephone, handicapped-accessible bath and thermostat to control heat and air conditioning. Delicious, healthful meals are prepared on site by Quarry Hill's professional chefs and Dining Services team and served in the Gardens' cheerful, country-style dining room. Additional amenities include an enclosed garden with walking paths and seating, Wi-Fi, an on-site hair salon, a gift shop and activities for individuals and groups.
Flexible Payment Options
Quarry Hill offers you the flexibility of paying for skilled nursing and rehabilitation services through Medicare, MaineCare or your own resources. Many commercial insurance providers will also help defray expenses. Quarry Hill's Social Services staff will be happy to help you weigh your payment options.
If skilled nursing care is on the horizon for you or a loved one, please arrange a visit of the Gardens. We look forward to meeting you and giving you a tour.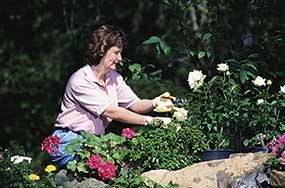 A New Vision for the Future of Nursing Care
A coalition of healthcare organizations, including Quarry Hill, is developing plans to build a new, state-of-the-art short- and long-term nursing care center for the people of the Penobscot Bay region.
Learn more about the new state-of-the-art nursing center.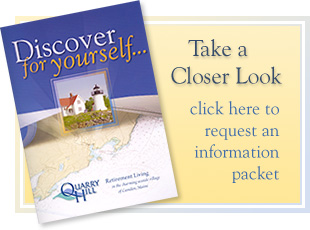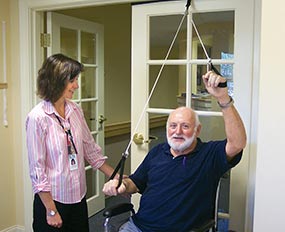 What People are Saying
"No matter the hour or the patient, the staff responded to a need with kindness and efficiency. Would that we all would be treated like that or respond like that to others."
"The quality of food prepared by Chef Roy and his staff is very good….The food arrives fresh and hot; right on time every day…"
"I still find myself marveling at the medical professionalism and am so grateful for the extra kindnesses experienced from every single staff person who worked with me at both Pen Bay and Quarry Hill."
"So many staff people went above and beyond to make my wife's recuperation a positive experience."
"The nurses brought happiness into the room every time they visited."
"The Gardens makes skilled nursing care seem like five-star living."