Toward a Sustainable Future for Nursing Care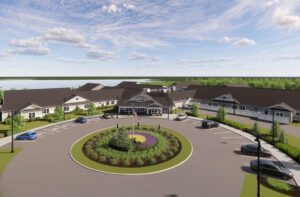 A new short- and long-term nursing care center is under construction in Rockland, just a short distance from Quarry Hill, and two miles from Pen Bay Medical Center. Perhaps you have questions about what this initiative might mean to you if you or someone you love were to become a resident of Quarry Hill.
First, a bit of background. For nearly two decades, the Gardens at Quarry Hill has provided the people of the Penobscot Bay region with skilled rehabilitation / therapy services (SNF) and long-term nursing home (NF) services. Similar services have been provided at the Knox Center, our sister community located in Rockland, for even longer.
Given the small size of the Gardens at Quarry Hill and the age and design of the Knox Center, leaders within our organization began discussing ways to meet the need for this care more efficiently and economically. They concluded that the best solution would be to build a new, state-of-the-art center capable of delivering, for years to come, the kind of care we all want for ourselves and our loved ones.
To that end, a new facility, named Breakwater Commons, is taking shape on Old County Road in Rockland. Breakwater Commons is a collaboration between Sandy River Company and North Country Associates, both of whom are established leaders in the development and operations of senior care communities statewide. Additionally, Sandy River and MaineHealth, of which Quarry Hill is a member, have a longstanding relationship and, along with North Country Associates, have collaborated on a number of senior-care projects in Maine.
Breakwater Commons is on track to open in the spring of 2023, at which time the SNF / NF services currently provided at Quarry Hill and the Knox Center will transition to Breakwater Commons.
To clarify, the other services provided at Quarry Hill will not be affected by this project. Our independent living cottages and apartments, traditional assisted living and memory-care assisted living will continue on our campus in Camden. The hope is that the residents in the Gardens, as well as the residents of the Knox Center, will elect to transition to Breakwater Commons. However, if residents choose to move to a different facility, we will assist them with that transition. And, be assured, residents of Quarry Hill will have the same priority access to care at the new center as they now have at the Gardens.
Questions about Breakwater Commons? Please contact Quarry Hill Executive Director and Administrator Loriman Looke by email or by phone at 207-301-6275.