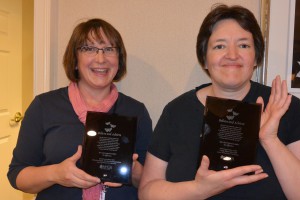 The Maine Health Care Association (MHCA) has named two Quarry Hill employees as recipients of the organization's 2014 Celebrating Excellence in Caregiving Awards. Shannon Black and Linda Meservey, CNA, are among 17 award winners statewide.
Black serves as service representative for Quarry Hill's assisted living and nursing care centers. Assistant administrator Nancy Marcille, RN, called her "a role model for the best of what we all strive to be in long-term care: loving, kind, capable, organized, focused, compassionate, quick-thinking, people-oriented, and able to juggle a zillion tasks and still make each person she speaks to feel at ease. Shannon is loved by everyone—residents, families, and coworkers alike."
Meservey, a certified nursing assistant with 28 years' experience, provides bedside care for residents of the Gardens, Quarry Hill's nursing care community. "Linda never gives less than 110 percent to her residents and her team," Marcille commented. "She possesses an uncanny ability to know what's important to each person in her care and how to make them feel special and loved."
Black, Meservey, and other award winners were honored during a September 26 recognition ceremony, held at the Augusta Civic Center, In addition, Quarry Hill feted the two women with an ice cream social attended by their coworkers, October 22.
Excellence awards are given annually to long-term care employees who exemplify commendable levels of caregiving, dedication, and professionalism in caring for elderly and disabled citizens in Maine nursing homes and assisted living centers. Nominees must meet criteria related to quality of caregiving, attention to residents' rights, and leadership among their peers. Nominations are submitted by long-term care communities; an independent panel of judges with expertise in the field of long-term care selects the winners.
According to MHCA president and CEO Richad Erb, "Maine's direct care and support staff provide compassionate quality care and in many cases fill a family role for long-term care residents and consumers….[The awards program is] a tribute to their dedication and our way of saying thank you."
MHCA is a nonprofit trade association representing Maine's 250 long-term care providers, including nursing homes and assisted living communities.