Current News & Events
Something interesting is always happening at Quarry Hill. Take a look at our press releases and news articles, read our newsletter, and check out our upcoming events. Want to know more? Please give us a call or send us a note-we would love to show you around! Contact us
Upcoming Events & Programs
Following are upcoming events and programs that are open to Quarry Hill residents and the general public.
Pen Bay Singers Holiday Concert
Wednesday, December 18, 10:30 a.m. to noon
Location: Anderson Inn at Quarry Hill
Presented by: Pen Bay Singers
Blending narrative and song, members of Pen Bay Singers deliver Charles Dickens' heartwarming A Christmas Carol in a performance sure to transform the stubbornest Scrooge.
Admission will be free; however, seating is limited, and registration is required. Call 207-301-6116 or email.
This event is part of Quarry Hill's

Recurring Events & Programs
New Pathways for Parkinson's
Every Friday, 10:00 a.m.
Anderson Inn at Quarry Hill, 30 Community Drive, Camden
This holistic fitness program is designed specifically for persons with Parkinson's and their caregivers. Participants Gordon Guist and Dan Avener co-lead this class. Free.
Alzheimers Disease Support Group
First Tuesday of Each Month, 6:00 p.m.
Anderson Inn at Quarry Hill, 30 Community Drive, Camden
The Alzheimer's Support Group provides information and support to area residents who have loved ones coping with Alzheimer's disease or related dementias.
Free. For details, please contact Cheri R. Blouin, LSW at (207) 301-6237 or at cblouin@pbmc.org.
Parkinsons Disease Support Group
First Tuesday of Each Month, 12 noon
Anderson Inn at Quarry Hill, 30 Community Drive, Camden
The Parkinson's Support Group is for people with Parkinson's disease, their families, friends, and caregivers.
Free. Attendees should bring a bag lunch. Drinks and desserts are provided. For details, please contact Cassie Walters at 596-3978.
Learn more about ongoing resident activities, and those planned for this month »
Learn more about Pen Bay Medical Center and Waldo County General Hospital's Journey to Health programs »
News from Quarry Hill
Quarry Hill's News & Views Newsletter (PDF)
Articles and Press Releases
Quarry Hill Dominates Healthcare Staff Awards
October 29, 2019
Camden, Me., October 29, 2019 – Quarry Hill stood out as the most honored of the several healthcare organizations participating in the Coastal Healthcare Alliance (CHA) employee awards program for this quarter, with a total of eight employees celebrated as winners and nominees.
At gatherings held October 14 at Pen Bay Medical Center and October 22 at Quarry Hill, excitement centered on DAISY Award winner Amy Tyler, RN, clinical nurse manager of Quarry Hill's long- and short-term nursing care center. Tyler topped a field of 13 other CHA nominees for the DAISY, awarded by healthcare systems around the world in recognition of outstanding performance in the field of professional nursing.
DAISY is an acronym for Diseases Attacking the Immune System. It was established by the DAISY Foundation and the family of a man who died of an autoimmune disease. Impressed by the compassion and skill of the nurses who cared for their loved one, the family sought a lasting way to recognize nurses who deliver extraordinary care.
Quarry Hill director of nursing Heather Quesnel, MS, RN, NEA-BC, said anyone can nominate a nurse for a DAISY; local committees select as winners those who have made the most significant difference in the lives of patients, established special connections with patients and families, served as role models for other nurses or met other criteria set by local healthcare systems.
"Amy's selection as a DAISY Award winner is well-deserved," Quesnel commented. "Her patient-centered approach, coupled with her stellar clinical skills, make her such an asset to the team and residents at Quarry Hill.  She is truly an amazing role model."
Seven other Quarry Hill employees were also singled out for recognition in this quarter's awards program. CNAs Annette Merrifield, Kristina Ott,and Millie Wright were nominated to receive Sunshine Awards, CHA's equivalent to the DAISY for nursing assistants and other healthcare support-team members. CNA Lori Gary, physical plant director Richard Mitchell and environmental services director Judith Harrington were nominated for "Standing Ovation" awards for exemplifying the organization's mission and values; while Maintenance staff member Joel Shuman won a Standing Ovation during the quarter.
Quarry Hill Named a Winner in Chili Challenge
February 14, 2019
Camden, Me., February 15, 2019 – Kudos to Quarry Hill executive chef Scot Pierce for his winning entry in the West Bay Rotary Chili Challenge, held February 9 at 16 Bay View restaurant in Camden.
Pierce's Oktober Fest recipe took third in a field of 10 concoctions submitted by restaurants and professional kitchens and judged by hungry locals. His recipe for success: a chilblain-chasing blend of bratwurst, sauerkraut, beef, bacon, beans and veggies (plus a generous swig of Sam Adams lager) that tasters said was like Bavaria on a spoon.
West Bay Rotary donates all proceeds from the Challenge, held each year in conjunction with the National Toboggan Championships at Camden's Ragged Mountain Recreation Area, to local nonprofits. In recent years, it has provided vocational scholarships for students, donated heating-oil funds to area towns for distribution to people in need, and supported caring organizations such as Midcoast Habitat for Humanity, Knox County Homeless Coalition and community food banks.
Shown here: Pierce (far right) with other 2019 Chili Challenge winners.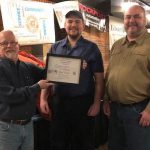 Flatbread Pizza Fundraiser to Benefit Parkinson's Research
February 12, 2019
Camden, Me., February 12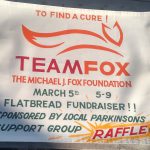 , 2019 – The Camden-based Parkinson's Support Group invites pizza lovers to follow their noses to Flatbread Company in Rockport on Tuesday, March 5, between 5:00 and 9:00 p.m. for a deliciously inspiring fundraising event aimed at advancing research into Parkinson's disease, a neurological condition that affects more than 1 million people and their families worldwide.
During the event, Flatbread will donate $3.50 for each large flatbread pizza and $1.75 for each small flatbread pizza sold to the Michael J. Fox Foundation for Parkinson's Research. A deejay will keep toes tapping, and a raffle will be held, with prizes donated by local businesses.
The Parkinson's fundraiser is part of Flatbread's tradition of holding benefit nights in support of nonprofit organizations throughout the Penobscot Bay area. It will be the second time Flatbread has collaborated with the Camden Parkinson's Support Group to benefit Parkinson's research.
The support group meets regularly at Quarry Hill in Camden on the first Tuesday of each month from noon to 2:00 p.m. It provides opportunities for people with Parkinson's, their family members and caregivers to come together to learn, share insights and enjoy the support of others affected by the disease.
For more information about the fundraiser or the support group, please contact Cassie Walters, 596-3978 or ckwalters66@gmail.com.
Quarry Hill Staffers Achieve Medication-Aide Certification
December 21, 2018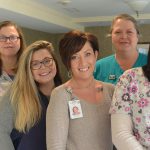 Camden, Me., December 21, 2018 – Six certified nursing assistants (CNAs) and one Activities Department staffer at Quarry Hill in Camden have completed the 40-hour certification process required by the Maine Department of Health and Human Services to serve as certified residential medication aides (CRMAs) in a licensed assisted living center. Quarry Hill recently hosted the state-mandated 40-hour CRMA training course, which qualifies front-line healthcare paraprofessionals to measure and administer medications in senior-living centers.
The newly certified group includes, from left, Iris Perkins-Powell, Savannah Tinker-Wadsworth, Mercedes Tremblay, Karyn Willis, and Andrea Annis (not shown: Jennifer Sanderson and Katlyn Grubbs). They will be eligible to begin working as CRMAs at Quarry Hill this winter, after completing an inservice orientation program.
Heather Quesnel Joins Quarry Hill as Director of Nursing
December 21, 2018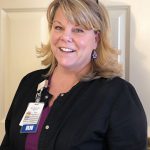 Camden, Me., December 21, 2018 – Heather Quesnel, MS, RN, NEA-BC, known throughout New England as one of the region's most effective nurse leaders, has joined Quarry Hill as the Camden senior-living community's director of nursing.
Quesnel's 25-plus-year career began in Maryland and Washington, D.C., where she served five years in the U.S. Army Nurse Corps. Migrating to Vermont, she pursued positions in school nursing, nurse education and nursing administration before moving to Maine in 2014 to become chief nursing officer at Waldo County General Hospital in Belfast.
In 2016, Quesnel was named administrative director of MaineGeneral Homecare and Hospice in Waterville. Her leadership were seen as instrumental in enabling the organization to complete a major restructuring initiative, overcome regulatory and compliance issues, surpass budget targets and exceed virtually all national standards for hospice care.
Commenting on Quesnel's arrival at Quarry Hill, executive director Loriman Looke said he cannot imagine a more qualified candidate for the director of nursing job.
"Heather is precisely the kind of leader we need to continue to meet the challenges of senior care," commented Looke. "Her devotion to residents and patients as well as to the staff members she guides is remarkable. Plus, the combination of clinical and leadership skills she embodies will be essential to our success in today's highly regulated, ever-changing senior-living environment."
A decorated Army veteran, Quesnel holds a bachelor of science in nursing from the University of Vermont and a master's degree in nursing administration from the University of Maryland. She has also earned the credential NEA-BC (Nurse Executive Advanced—Board Certified).
She resides in Hope.
Kendall House Named Assistant Administrator at Quarry Hill and Knox Center
October 17, 2018
Camden, Me., October 17, 2018 – Quarry Hill in Camden and the Knox Center for Long Term Care in Rockland have named Nobleboro resident Kendall House to the recently created position of regional assistant administrator.
House is responsible for developing and implementing policies and procedures consistent with the caring mission of the two senior-care communities and for ensuring compliance with state and federal regulations. Her other duties at both organizations include supporting performance-improvement efforts and maintaining sound financial management.
House is well-known in local health care circles, having started out as a dietetic technician at the Knox Center and at Waldo County General Hospital. In August 2015, she stepped into the pivotal position of Executive Assistant at Pen Bay Medical Center, providing invaluable support at the highest levels of that organization. Prior to joining Quarry Hill, she was Administrator in Training at the Knox Center while completing requirements for licensure as an administrator. She recently completed those requirements and is now fully certified as a multi-level nursing home administrator by the state of Maine.
House holds a bachelor's degree in health care administration from Saint Joseph's College in Standish, Maine, and an associate's degree in dietetics from Southern Maine Community College.
Geriatrician Joins Quarry Hill Primary Care Practice
January 9, 2018
CAMDEN, Me., January 9, 2018 – Board-certified geriatrician Dr. Maureen Sauvage, DO, has stepped into the role of supervising physician for Quarry Hill's inhouse primary care practice. She replaces Dr. Richard Kahn, MD, who launched the practice in 2009 and served until his retirement in October.
Dr. Sauvage works in partnership with the service's nurse practitioner to cover the primary-care needs of the residents of Quarry Hill as well as its sister senior-living community, the Knox Center in Rockland.
"With Dr. Sauvage in place, this invaluable service will continue to grow, providing enhanced quality of care, swifter response to emergent medical concerns, fewer hospitalizations, reduced healthcare costs and other benefits for our residents," commented Quarry Hill executive director Mary Sargent.
Dr. Sauvage is no stranger to Maine. While she most recently served as practicing geriatrican at MorseLife Health System/PACE in West Palm Beach, Fla., she previously worked at St. Joseph's Hospital in Bangor and Maine Medical Partners Geriatrics at Maine Medical Center in Portland. She earned her doctor of osteopathy at the University of New England College of Osteopathic Medicine in 2009 and completed a fellowship in geriatrics at Maine Med in 2013.
Quarry Hill Launches 15th Anniversary Celebration with Lobster Feed
August 21, 2017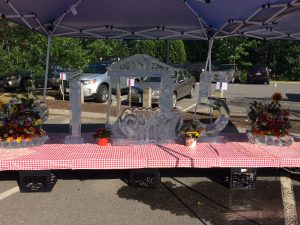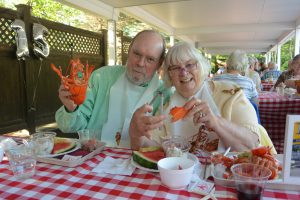 Camden, Me., August 21, 2017 – Quarry Hill used the occasion of its summer Lobster Bake, August 18, to launch the celebration of its 15th year as the area's most extensive residential community for adults age 55 and better.
An end-of-summer tradition at Quarry Hill for more than a decade, the Lobster Bake brings together residents, prospective residents, and staff members for an outdoor bash complete with steamed lobster and other seafood, live entertainment, and neighborly socializing. This year's fête also featured special anniversary-related decorations, a massive 15th anniversary ice sculpture created by a Quarry Hill dining services team member, and a display honoring the 25 current residents and 31 current staff members who have lived or worked at Quarry Hill since it opened in 2002. A jazz ensemble headed by local musician Glen Sargent kept toes tapping into the evening and brought a few guests to their feet to dance.
Quarry Hill will continue celebrating the 15-year milestone by weaving the theme into the numerous events and social gatherings it hosts for residents and the wider public year round.
The area's only extended-care community traces its roots back to 1996, when a citizens task force began looking for new uses for the site of the former Camden Health Care Center, a nursing-care facility that was razed after the opening of Penobscot Bay Medical Center. The concept of an extended-care community emerged as the best way to serve the needs of older adults, and construction of Quarry Hill's 45 cottages and central Anderson Inn began.
Today, Quarry Hill provides independent living and assisted living for adults age 55-plus, as well as short- and long-term nursing care and rehabilitation. The community has become a respected source of information and inspiration for older adults regionwide with diverse educational programs, support groups, and other events offered throughout the year.
Quarry Hill Plans Assisted Living Open House
August 16, 2017
Camden, Me., August 15—Older adults and family members interested in learning more about assisted living are invited to attend an Assisted Living Open House at Quarry Hill on Wednesday, September 13, from 5 to 6 pm at Quarry Hill's main building, the Anderson Inn. The event is planned as part of Quarry Hill's annual observance of National Assisted Living Week, scheduled this year for September 10–16.
The open house is an opportunity to explore Quarry Hill's traditional assisted living community, meet residents and staff, and pick up free literature on helping loved ones make the transition to assisted living. Visitors can learn more services, apartment types, and other specifics and get a sense of what it's like to live in the Midcoast's premiere community for older adults.
The open house is free and open to the public on a drop-in basis. To schedule a visit on another day, Monday through Friday during regular business hours, or to request literature, please call the Marketing Office at 207-301-6116.
Parkinson's Group to Celebrate 13th Anniversary
August 16, 2017
Camden, Me., August 15, 2017 – Individuals living with Parkinson's disease, as well as their family members and caregivers, are invited to attend the 13th anniversary celebration of the Parkinson's Support Group that meets each month at Quarry Hill in Camden.
The party will take place during the group's Tuesday, September 5, meeting, beginning at noon at Quarry Hill's main building, the Anderson Inn, and will feature cake, ice cream, and time to socialize and reflect on the group's accomplishments over the years. Afterward, participants will divide into discussion groups where those living with Parkinson's, their family members and caregivers can explore each other's unique perspectives and insights.
The Parkinson's Support Group meets at Quarry Hill on the first Tuesday of each month during the noon-to-2:00 p.m. time slot. Meetings typically feature an educational component, followed by small-group discussion. Attendees are generally encouraged to bring bag lunches, with Quarry Hill providing beverages and desserts.
For more information about the September 5 anniversary celebration or about the Parkinson's Support Group in general, please contact Cassie Walters at 596-3978 or via email at ckwalters66@gmail.com.
Quarry Hill to Showcase Cottages in September Open House
August 16, 2017
Camden, Me., August 15, 2017–Quarry Hill will hold the fifth in a series of open-house events designed to introduce the public to its cottage homes for adults age 55-plus on Saturday, September 16, from 1:00 to 3:00 p.m. at the community's 26-acre campus in Camden.
Visitors will be welcome to tour cottages that are available for purchase or rental, meet with staff members and residents, and pick up information concerning pricing, services, floor plans, and more. Signs and balloons will be placed to direct drivers to cottages open for viewing; light refreshments will be served.
For more information about the September open house, or to arrange a visit on any day, Monday through Friday, please call the Marketing Office at 207-301-6116.
Physician to Speak on Shoulder Health
August 16, 2017
Camden, Me., August 15, 2017 – Adults age 50-plus who live with shoulder pain—and those who hope to avoid shoulder pain–are invited to attend a presentation by Jeff Rasmussen, MD, on Monday, September 25, from 3 to 4 p.m. at Anderson Inn at Quarry Hill in Camden.
In his remarks, Dr. Rasmussen, an orthopaedic surgeon with Pen Bay Orthopaedics in Rockport, will explain how to maintain healthy shoulder function and outline treatment options for those experiencing difficulty with this critically important joint.
Dr. Rasmussen received his undergraduate degree from Cornell University and completed medical school at the University of Maryland School of Medicine. He is a member of the Arthroscopy Association of North America, the American Orthopedic Society for Sports Medicine and the American Academy of Orthopedic Surgeons.
The September 25 program is part of Quarry Hill's Going Strong series, devoted to health-related issues of particular concern to older adults. Admission is free; advance registration required. To sign up, call Quarry Hill at 301-6116 or email qhinfo@penbayhealthcare.org.
Educator to Speak on "The Art of Nonviolent Communication"
August 16, 2017
Camden, Me., August 15, 2017 – Returning by popular demand, Lincolnville-based Nonviolent Communication educator Peggy Smith will guide a further inquiry into empathy-based communication strategies in "The Art of Nonviolent Communication" on Wednesday, September 20, from 10:30 a.m. to noon at the Anderson Inn at Quarry Hill in Camden. The program is part of Quarry Hill's ongoing Adventures in Living Well series aimed at enriching the lives of adults age 50-plus; admission will be free.
In her interactive presentation, Smith will explore the "calming gift" of empathy, or "warm accompaniment," and show how it can be used to connect authentically and compassionately with others, even in the face of challenging or oppositional points of view. She'll explain what judgmental thinking tells us about ourselves and suggest ways to convert such thoughts into positive, life-serving energy.
Smith is certified as a Nonviolent Communication educator by the International Center for Nonviolent Communication® (cnvc.org). She is a cofounder of the Maine NVC Network and creator of the online curriculum Courageous Communication, based on her experience with men exiting the prison system. She runs two consulting businesses—Open Communication (opencommunication.org) serving individuals, and Clarity Services (clarityservices.us) serving businesses and nonprofits—and is also known for her work with educators through the Seeds of Peace International Camp in Otisfield, Maine.
Smith holds a master's degree from the University of Pennsylvania. She taught in Maine schools for more than 30 years before deciding to devote her professional energies to enhancing sustainable human relationships.
Advance registration for Smith's presentation is required. To sign up, please call Quarry Hill at 301-6116 or email qhinfo@penbayhealthcare.org.
CNA Students Give to Music & Memory Program at Quarry Hill
June 1, 2017
Camden, Me., May 26, 2017 — Three local students concluded months of fundraising today by formally presenting a check for $2,615 as a donation to the Music & Memory dementia-care program at Quarry Hill in Camden.
Currently pursuing nursing assistant (CNA) certification through the Midcoast School of Technology, high school seniors Jenna Taylor of Camden, Brianna Garner of Union, and Kelsie Merrill of Hope said they decided months ago to make Music & Memory the focus of a community-service project they hoped to enter in the 2017 national SkillsUSA Championships. The competition challenges students to design and complete service projects on behalf of community causes.
The girls organized two spaghetti dinners and canvassed local businesses to raise funds for the Music & Memory project. Having received the top score at the SkillsUSA state competition in March for their efforts, the students will now now shifts to the 53rd annual National Leadership and Skills Conference set for June 19 through 23 in Louisville, Kentucky, where the threesome will compete against some 6,300 other entrants from across the United States.
Taylor and Merrill said they developed the idea for the campaign after hearing a talk by local Music & Memory volunteer Kristine Lerner. In addition, both girls had worked at Quarry Hill–one of only two older-adult communities in Maine that are certified to offer Music & Memory to residents with dementia—and had seen the program in action.
"We saw the difference it made for people," Taylor said.
Music & Memory is a nationwide nonprofit that trains elder-care professionals and volunteers to use music to help those with dementia reconnect with their memories, their loved ones and themselves. Trained caregivers set up playlists of recipients' favorite music, load the music onto iPods or CDs and then help recipients and their families enjoy the equipment.
According to the Music & Memory website, listening to music they've loved over the years "brings residents and clients back to life, enabling them to feel like themselves again, to converse, socialize and stay present." In some cases, say practitioners, music can even succeed where dementia medications fall short.
SkillsUSA is a nationwide organization serving high school and college students enrolled in training programs related to healthcare and other skilled and technical occupations. The organization is based in Leesburg, Va.
Quarry Hill Honors Volunteers
May 3, 2017
Camden, Me., May 3, 2017 – It took not one but two separate do's—a brunch on April 26 and a tea on May 2– to honor adequately the 100-plus good souls whose volunteer efforts enriched the lives of our residents in 2016. This year's celebrations, in conjunction with National Volunteer Recognition Week, featured delicious food, remarks by the volunteers themselves, and words of gratitude from executive director Mary Sargent (pictured here). "The hours that our volunteers contribute toward the greater good," said Sargent, "transform this community from just a place to live to a place we're happy and proud to call home."
Quarry Hill Bids Farewell to Chef Roy
March 7, 2017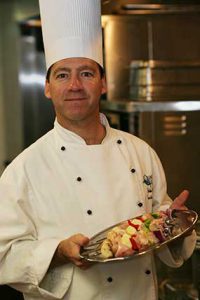 CAMDEN, Me., March 7, 2017 – Quarry Hill bid adieu last week to the man who developed and managed the Camden older-adult community's highly regarded dining program.
John Roy served as executive chef at Quarry Hill for more than 13 years before leaving February 25 to begin a new position in Portland. Earlier that week, it had been standing room only as residents, employees and others packed a farewell reception held in his honor.
Roy was the first person hired to help shape the resident experience at Quarry Hill. He joined the management team three months before the community's main building, the Anderson Inn, officially opened and began designing the program from the ground up, from outfitting the kitchen to hiring staff and crafting menus. In 2011, his management role was expanded to include dining services at the Knox Center for Long Term Care in Rockland, another Pen Bay Healthcare (now Coastal Healthcare Alliance) member.
Among those singing John's praises during the reception were former Pen Bay Healthcare CEO Roy Hitchings and current Quarry Hill executive director Mary Sargent. Sargent gave the chef a Quarry Hill fleece jacket and umbrella, and Leigh Smith of the residents' advisory Food Committee presented him with a New York Times cookbook signed by committee members.
Maine Health Care Association Lauds Quarry Hill Staffers
October 6, 2016
CAMDEN, Me., October 6, 2016 – The Maine Health Care Association (MHCA) has named two Quarry Hill Maintenance Department employees as recipients of MHCA's 2016 Celebrating Excellence Awards. Mike Flanagan won an Excellence in Caregiving award, while Doug Gilson was honored for Excellence in Innovation.
A veteran of 14 years at Quarry Hill, Flanagan was nominated as a "go-to person" who not only knows how to find and fix everything but has endeared himself to residents as a caring friend and sympathetic ear.
"Mike never hesitates to go the extra mile to make sure every individual that comes to him leaves feeling heard and cared about," noted colleagues in their letter of nomination. "[He] never gives up until a crisis is averted, a problem is solved and everyone is reassured and comfortable."
Innovation winner Doug Gilson drew praise as the driving force behind a project that invited Quarry Hill residents to relive "old fishing hole"memories by helping to stock the community's man-made pond with 113 rainbow trout from the Maine Department of Fish and Wildlife. The initiative grew to involve residents and staff throughout Quarry Hill in acquiring, releasing, and feeding the fish and ultimately reaping the rewards: a series of catch-and-release fishing parties. Residents and employees whose donations offset the costs of the initiative won the right to name the fish, resulting in monikers ranging from Jaws to Free Willy.
The 2016 Excellence in Innovation award is Gilson's second. In 2015, the avid outdoorsman was honored for organizing a daylong snowmobiling trip for residents in collaboration with the local Lincolnville Mountain Goats Snowmobile Club. The outing has become an annual tradition, combining a half-day trail ride in Camden Hills State Park with a hot lunch served by club members at a ski lodge along the way.
Flanagan, Gilson and other honorees received their awards from Maine First Lady Ann LePage during a recent recognition ceremony at the Augusta Civic Center. The annual MHCA event spotlights long-term care employees who exemplify commendable levels of caregiving, dedication and professionalism in caring for elderly and disabled citizens in Maine nursing homes and assisted living centers. Nominees must meet criteria related to quality of caregiving, attention to residents' rights and leadership among their peers. Nominations are submitted by long-term care communities; an independent panel of judges with expertise in the field of long-term care selects the winners.
According to MHCA president and CEO Richard Erb, "Maine's direct care and support staff provide compassionate quality care and in many cases fill a family role for long-term care residents and consumers….[The awards program is] a tribute to their dedication and our way of saying thank you."
MHCA is a nonprofit trade association representing Maine's 250 long-term care providers, including nursing homes and assisted living communities.
Hannaford Helps Program Provides Boost to Resident Activities Fund
September 21, 2016
Camden, Me., September 21, 2016—Quarry Hill's time as beneficiary of Hannaford Stores' "Hannaford Helps" reusable-bag community fundraising program finally ended on August 31, and the results have been most gratifying. In Quarry Hill's four months as beneficiary, a total of 968 of the initiative's blue "good karma" shopping bags were purchased at Hannaford stores in Rockland and Camden, resulting in $1,206 in donations from Hannaford. We've applied all monies raised to the Resident Activities Fund, where they'll translate into more and better programs for our residents. A big thank-you to all who helped by purchasing "Hannaford Helps" bags.
News from Midcoast Maine