What's Your Pleasure?
No more alarm clocks. No more 9 to 5. At last, your life has become your own. And Quarry Hill gives you the freedom to make the most of it.
In Independent Living…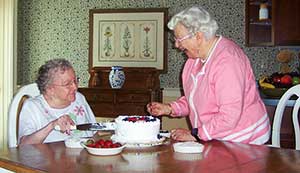 You might start each day, if you choose, with complimentary coffee, conversation, and maybe a donut hole or two in the Living Room at the Anderson Inn. From there, the world's your oyster. Each week brings fitness, meditation, and often yoga classes, shopping trips, and movie nights. The monthly calendar brims with evening wine-and-cheese socials, birthday parties, "fireside chats," field trips, and concerts. Annual traditions such as our legendary summer lobster bake, fall "Harvest on the Hill" banquet, and holiday gatherings, bring neighbors together to celebrate the splendors of Maine's four seasons.
Elsewhere in the Inn…
Quarry Hill's activities staff plans dozens of programs and special events each month for residents of our traditional assisted living, memory-loss care, and nursing-care communities. Popular are exercise classes; game nights; picnics; cookouts; museum outings; pet visits; wine-and-cheese parties; and performances by visiting musicians, dancers, storytellers, and more.
Live, Learn, and Let Fun Happen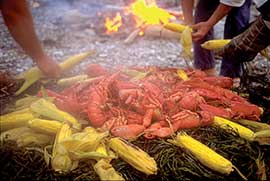 Two year-round educational series, open to all residents and the general public, reflect Quarry Hill's lively and inquiring spirit. Renowned Adventures in Living Well programs cover the proverbial waterfront—from Mediterranean cooking to lighthouse history to stroke prevention to the history of American popular music. Exploring Complementary Healthcare for Seniors events, offered more or less quarterly, delve into the benefits of Reiki, reflexology, acupuncture, and other complimentary/integrative approaches to health and healing.
But there's more to life at Quarry Hill than the planned and the scheduled. You never know what might pop up: A spring fashion show with residents as models. An elevator ride to the top of a 42-stories-high suspension bridge. A Super Bowl party. An impromptu performance of show tunes banged out on the baby grand by a resident's visiting grandson.
Perhaps more than most communities of its kind, Quarry Hill is a place created of, for, and above all by the people who call it home. A place where you get to be you.